Shedding Light on Our Past.
The Clarenville Heritage Society, located in the former CN Railway Station, is a dedicated group of volunteers who work hard in preserving the history of Clarenville and surrounding area.
NOTICE: The museum is now closed for the season. However, special group tour can be arranged. For more information, please call 466-7489.
~ 1st Annual Christmas Calendar Draw ~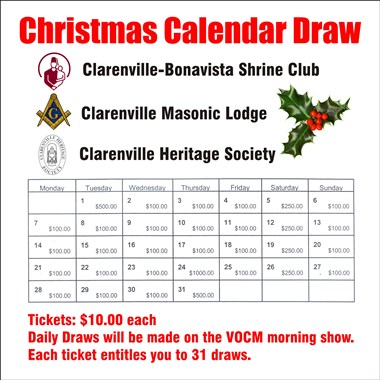 Click here to see a list of daily winners! Thanks to everyone for purchasing a ticket!
~~~~~~~~~~~~~~~~~~~~~~~~~~~~~
From the Heritage Archives we present this sample from the 16mm film collection of the late Mr. Martin Bourne, former resident of Clarenville in the 1950s. Mr. Bourne who operated the first movie theatre in our town was also a filmmaker who shot colour films around the Clarenville and Bonavista area. His son, Larry donated the film prints to Heritage in July 2014. Stephen Bonnell, Society President and also a filmmaker himself, took the time to digitize the prints. Enjoy!
Quips and Quotes:

I have but one lamp by which my feet are guided, and that is the lamp of experience. I know no way of judging the future but by the past.
---
&copy 2003-2014 The Clarenville Heritage Society.
Best viewed with "Any Web Browser" you have. We are not picky :) .
Last Updated May 06, 2014 8:25
Questions or Comments? Email: info@clarenvilleheritage.ca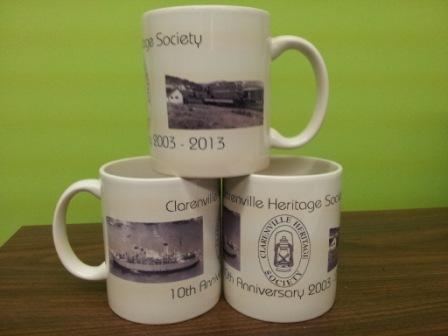 'Heritage Mugs For Sale' Orders for mugs can be placed by calling 709-466-7489 or by email: info@clarenvilleheritage.ca. Thank You for your support.
Listen to our conversation with Mr. John Stanley of George's Brook who worked at the Newfoundland Hardwoods Plant from 1946 to 1979. An interesting account of what life was like back then in Clarenville.
Our goal is to capture more local stories from our senior citizens who have a lot to share to us as we shed light on our past. Click here for more local stories on our media page.
For more information on our project, email us at: info@clarenvilleheritage.ca.