2003 to 2013: Celebrating 10 years preserving our community's past.
The Clarenville Heritage Society, located in the former CN Railway Station, is a dedicated group of volunteers who work hard in preserving the history of Clarenville and surrounding area.
To celebrate our 10th Anniversary, we have designed a Heritage Mug, great for that morning coffee or tea, emblazed with two iconic symbols that put Clarenville on the map: The Railway & TAT-1 Cable Landing world's first transatlantic telephone cable. Two milestones that Heritage celebrated within the last 10 years. Own yours today for just $10.00.
~ Directions to Heritage Museum ~
View Larger Map
Clarenville Heritage Museum is now closed for the season. For more information or school tours, please call 709-466-7489 or 709-433-2302.
Heritage Society Moose Burgers will be for sale again this November. Cost is $8.00 a pack. To order, please call 466-7489. Thank You for supporting local Heritage!
Quips and Quotes:

I have but one lamp by which my feet are guided, and that is the lamp of experience. I know no way of judging the future but by the past.
---
&copy 2003-2013 The Clarenville Heritage Society.
Best viewed at 800 x 600 with Internet Explorer 6.0 (or higher) or Netscape 7.0 (or higher).
Last Updated October 21, 2013 7:25
Questions or Comments? Email: info@clarenvilleheritage.ca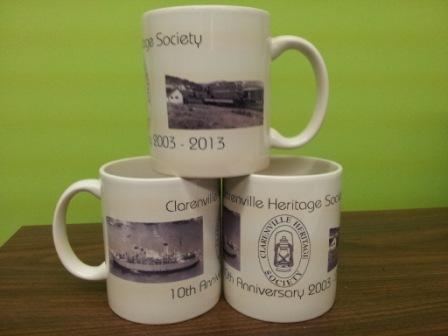 'Heritage Mugs For Sale' Orders for mugs can be placed by calling 709-466-7489 or by email: info@clarenvilleheritage.ca. Thank You for your support.
Click on the video link below to see our Fairmont Railway Speeder in operation in Clarenville on the Heritage railway line. August 2012
Our goal is to extend the track further closer to the station of what remains of the 1/2" mile line. This track was cleared and fixed up by volunteers after CN abandonment 25 years ago. The last piece of railway left in Clarenville, we hope to preserve and maintain for many years to come.
For more information on our project, email us at: info@clarenvilleheritage.ca.